This is a favourite of my family's - and mine. My friend Rashmi once made it many moons back and I loved it. And I hate cauliflower! This is the only way I can have that vegetable and I make it at least once a month. This was also the first dish I made at my in-laws place soon after I got married. S's nainamma loved it and had two helpings!




I am also submitting this for this month's Jihva for Tomatoes food event. I did not know there was a word called Jihva till I read about it in Indira's blog. I am really hoping that I could be a part of this month's Jihva and even possibly, 'host' one at a later date.

Enough waffle - now for the recipe:

Gather around these things:

Cauliflower - 1, cut into florets
Tomato - 1, canned or 500 gms, blanched and pureed
Onions - 1, sliced
Green chillies - 3-4, slitted
Green peas - a tablespoonful
Coriander - for garnishing
Oil - 5 tbsp
Cumin seeds, masala ingredients - as per your preference
ginger/garlic paste - 1 tsp
Turmeric - 1 tsp
Dhania powder - 1 tsp
Jeera powder - 1 tsp
Garam masala - 1 tsp
Salt - as per your taste

Firstly, we have to cook the cauliflower. For this, boil a saucepan full of water, add some salt to it and drop in the florets once the water starts bubbling. Let it cook so for about 3-4 mins. Drain the florets in a colander and pat dry so you take all the excess water off. This is important as otherwise, it will start spluttering once you move on to the next step.
Heat oil in a kadai. In small batches, shallow fry / saute the florets till they become lightly crisp. Drain on kitchen towels so it isn't too oily.
Once you are done cooking the cauliflower, reduce the oil so only 2 tbsp or so remains in the kadai. Add cumin seeds, cloves, cinnamon and bay leaves and saute for a minute or so. Now, add the sliced onions and saute till the onions turn pink.
Next, add the ginger-garlic paste and saute for another minute.
Now you are ready to add the tomatoes. I generally prefer them in cans, chopped and swimming in their own juice, as that gives the curry a lovely colour. You can get fresh tomatoes, blanch and puree them as well. Add this to the kadai ingredients. Let it cook well till the fat seperates. Add a pinch of turmeric to the gravy.
Now add the cooked florets to the it along with some peas and let it all simmer for five - ten minutes. Add salt, dhaniya- jeera powder and garam masala and let it steep for a minute.
Take off the flame and garnish with chopped coriander.

Serve hot with chapati or pulao / fried rice.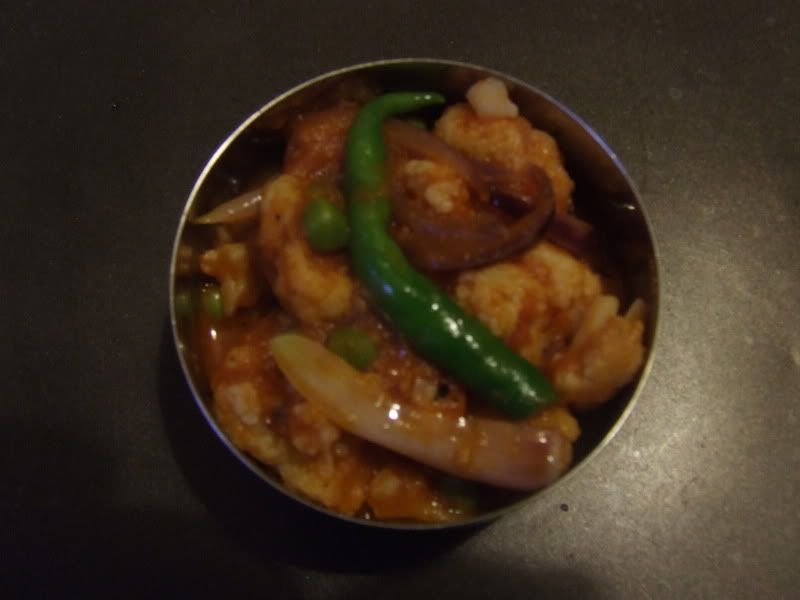 Posted by DesiGirl 18:56    
Labels: cauliflower, curry, gravy, jihva, sidedish, tomato
3 Comments:
Sukanya Ramkumar said...

13 April 2007 at 18:38

 

hi,
First time to ur bolg...... Ur cauliflower curry is very nice........

Janefield said...

22 July 2007 at 15:43

 

Awesome! Must try this one out sometime, thanks for sharing :)

keerthi said...

29 December 2010 at 14:09

 

tried this now waiting for my hubby's reaction....