March 14 2007, was kaaradaiyan nombu for the Nombu celebrating folks of Tamil Nadu. On this day, the women of the house fast till the appointed hour, when they pray to the Goddess Gowri for the good health and long life of their husbands and make yummy adais. After prayers, they tie a golden thread around their necks and sit down to break their fast by eating the salt and sweet adais, topped with a dollop of oothukuli butter. Hmmmm, heaven!

The young girls of the family also do this pooja - tho 'doing the pooja' is a loose term, considering all I did was wait till the whistle is blown and I can stuff my face with the adais. I love this festival as this is the one day when women get to eat before the men! Wahey! The next day at school, boys generally used to have a field day ragging us as us girls would be walking around with a yellow thread around our necks.

Every year on this day, the requisite 'athiri bacha', used to be told by various members of my family. This year, I cannot wait to tell it to my five year old!

Now for the adai recipes.

Salty adai



Things you need:
Rice flour - 2 cups
Water - 2 cups
Cooked black eyed beans - 3 tbsp
Dried red chillies - 2
Coconut, diced - 2 tbsp
Oil - 1 tbsp
Mustard seeds - 1 tsp
Curry leaves - a handful, chopped
Asafoetida - a pinch
Salt - to taste

How to make them
Roast the rice flour in a kadai so it loses its raw smell but not so it turns colour. Transfer it onto a plate to cool. Now, heat some oil in the kadai, add some mustard seeds, asafoetida, dried red chillies and curry leaves and saute for a minute, till the seeds stop spluttering. Add the water to it next and let it come to a boil. Add coconut pieces, cooked black eyed beans, the roast rice flour and salt to taste and stir well so that lumps don't form.
The resultant dough must be of a dry consistency; the more paste-y they become, the more time it takes to cook. I prefer the taste of the adai when the dough is slightly dry.
Make balls out of it, flatten the balls and cook in an idli steamer for about 10 minutes.

Serve with a generous dollop of butter.

Sweet adai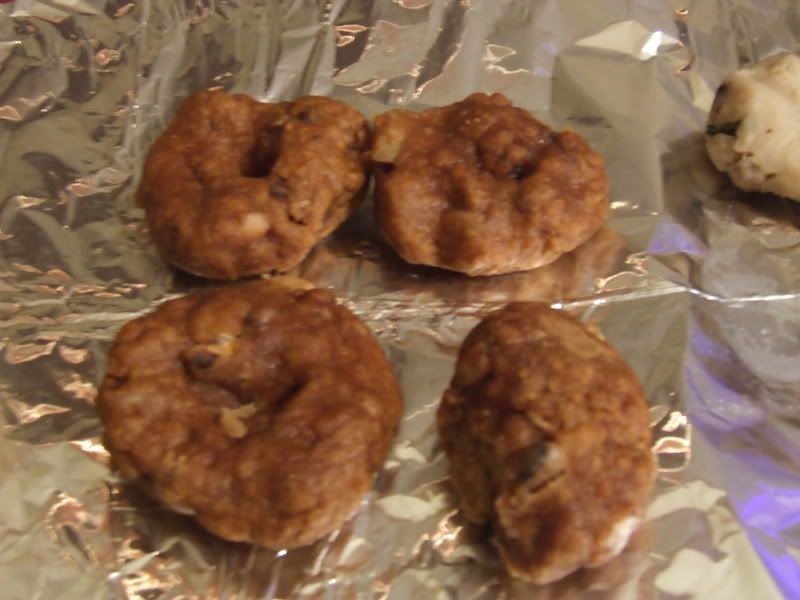 Things you need:
Rice Flour - 2 cups
Jaggery (powdered) - 1.5 cups
Water - ¾ cup
Black eyed beans - 1/2 cup
Coconut (cut into small cubes) - 2 tbsp
Ghee - 2 tbsp
Elaichi - 2-3

What next?
Soak the beans for around 3 hours, pressure cook and set aside.
Take a kadai, boil water till it begins to bubble and add the jaggery. Boil the mixture till the raw smell of jaggery disappears. Take it off the flame, let it cool a bit, filter the mixture and transfer it back to the kadai.
Add the rice flour, beans and mix the ingredients well.
Seperately, heat ghee in a kadai and fry the coconut pieces well. Add to the mixture, along with some powdered elaichi and mix well.
Allow it to cool.
Once it is cool enough to touch, make balls of the mixture and flatten it to round shapes.
Steam them in an idli cooker for 7 - 10 minutes. Serve with a generous dollop of butter.
Posted by DesiGirl 16:14    
Labels: adai, festival, karadaiyan, nombu, sweet, tamil
3 Comments:
magicrna said...

17 March 2007 at 16:56

 

OHMYGOD!!!!! I was just telling my aunt on the phone who I miss my mom's adais on this day...I would sooo run off and cook them if only I had an idly steamer:)
thanks for the pictures, am feasting my eyes on them:)

DesiGirl said...

18 March 2007 at 09:44

 

ha ha! no worries!!
if u lived nearby i'd lend u one of mine.

Little Miss Sunshine said...

25 March 2007 at 05:14

 

@desigirl: You left the unwed girls feeding the 'maan' or 'maadu' part! We used to have so much fun doing it!! Oh what I wouldn't do now to have some of those jackfruit stuffed vella adais. Ashooooo! :(

@mrna: You would sooo not do anything of that sort! Don't kid me! :P